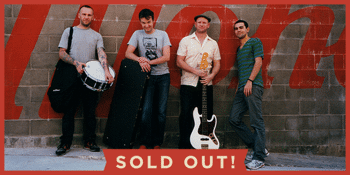 Eddy Current Suppression Ring - POSTPONED
with special guests Primo!, Straightjacket Nation and Alex MacFarlane
The Croxton Bandroom (Thornbury, VIC)
Sat 4 April - Thu 1 October 2020 8:00 pm
Dear punters

We have decided to postpone our Croxton and Pier shows until things simmer down. We'll have new dates as soon as we know it's cool to crowd around each other again. Hopefully not too far away. So hold on to your tickets but if you need a refund in the meantime, please contact Oztix.

lots of love, ECSR


One the most beloved and respected Australian bands of the last two decades, Eddy Current Suppression Ring broke through with their 2008 album, Primary Colours. They followed it with the equally distinctive and bombastic Rush to Relax in 2010, then disappeared from the live scene for several years - to the grave disappointment of fans.
In 2016 the band made a triumph return, destroying Meredith Music Festival with an incredible headline performance, a reminder of just how good live music can be. Late last year, they quietly dropped a new album, on Oh Sees' Castle Face Records. Ten years in the making, All In Good Time was worth the wait - a huge, addictive shudder of garage rock that has earned the band universal acclaim.
Eddie Current Suppression Ring are back and firing on all pistons. Catch them live at The Croxton this April.