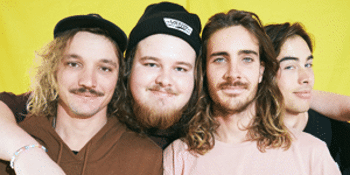 triple j, Sidequest & Select Music present
Sly Withers - 'Gardens' Album Tour (Early Session)
with Teenage Joans & Noah Dillon
The Croxton Bandroom (Thornbury, VIC)
Saturday, 2 April 2022 6:00 PM
Sly Withers are leaving their backyard behind and heading out on tour with Teenage Joans and Noah Dillon this November and December, to celebrate the release of their sophomore album, Gardens. Premiering at #10 on the ARIA charts, 'Gardens' is "a top shelf album of cathartic, introspective and exciting punk rock" (triple j, Feature Album) and the band can't wait to bring their newest offering to the nation. Kicking off in Darwin, and wrapping all the way around Oz, Sly Withers are keen to get back out on the road and play their biggest headline shows to date.

​​​​​​PLEASE NOTE: PROOF OF DOUBLE VACCINATION AGAINST COVID-19 IS REQUIRED TO ENTER THIS SHOW

This is a CovidSafe event so please:
DON'T COME if you feel sick or if you've been in contact with a person who has been diagnosed with Covid-19. We will refund your ticket (proof required).
WEAR A MASK to this is is a full capacity show. If you are unable to socially distance, it will offer you some protection.

Further safety precautions may be mandated by the Victorian Government, we'll let you know if anything changes.

Important Information for all Ticket holders: for the health and safety of all our guests and staff, we will be adhering to the Covid-19 vaccination directions as mandated by the Victorian Government. In line with the Victorian Roadmap, all staff and artists will be double vaccinated and all guests will be required to check-in via the Service Victoria App with a valid Vaccination certificate as they enter the venue.