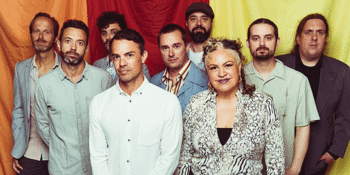 Niche presents
The Bamboos
with special guests
The Croxton Bandroom (Thornbury, VIC)
Friday, 4 February 2022 8:30 pm
Melbourne nine piece The Bamboos have announced their first Australian tour in over three years to launch their 10th (and arguably their finest yet) studio album,
Hard Up
.
The tour is a belated chance to celebrate across the country their 21 years together. The Bamboos are undoubted pioneers of Funk & Soul in Australia, and this album and tour are a consolidation of the now 21 years of hard graft in getting Australian Soul music accepted both here and worldwide. Formed in 2000 by guitarist and bandleader Lance Ferguson during the now revered early noughties Deep Funk revival, amongst the likes of Sharon Jones & The Dap Kings they held their own against the overwhelming tide of rock music at Australian venues and stages in the early to mid 2000s. Vocalist Kylie Auldist joined the band in 2007 and in a short space of time they became one of the first local Funk & Soul live drawcards, establishing a loyal following and a peerless reputation as one of the best live bands in the country regardless of genre. They soon evolved into a more complex blend of modern songwriting and classic soul arrangements, appealing to both purist fans of the genre as much as casual music fans by focusing on what's important: songwriting, groove and powerful vocals.
From a time where soul music was rare to see on Australian stages and hear on the radio, The Bamboos have helped forge a scene where it's now not just important locally but making waves globally. Their impact on what would become the now world-famous Melbourne Soul scene is undeniable, blazing a path and inspiring so many locals to play, record and explore new ideas in Soul, Funk, Jazz and Beats.
------------
This is a Covid Safe event and there are a few things we need you to know before you arrive:
PLEASE DON'T COME if you feel sick, if you've been in contact with a person who has been diagnosed with coronavirus (Covid-19), or if you have travelled overseas or to a coronavirus hotspot in the last 14 days. We will refund your ticket.
BRING A MASK — if you are unable to socially distance, it will offer you some protection. (The Croxton Bandroom has a special exemption from the Health Department to run at a higher capacity, which means reduced physical distancing indoors if a show is sold out and increased risk.)
A strict NO QR CODE, NO ENTRY policy applies at our venue. We use the Service Vic App QR code and you will have to SHOW SECURITY YOUR GREEN TICK at the door in order to get inside.
Download the App now for iPhone
Download the App now for Android
There is NO CLOAKROOM at this event. Bags bigger than A4 size are not permitted in the venue.
NO MOSHING, NO CROWD SURFING. No kidding. Patrons who kick off will be removed from the venue. We're really sorry about it, but we're in a pandemic.
Do your best to remain socially distanced and practice good hand hygiene. If you feel sick at the event, please report immediately to the Box Office so we can do a first aid assessment and get you home safely. Thanks!