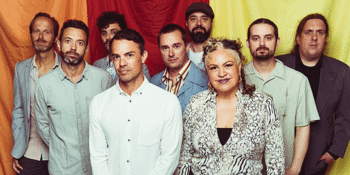 Niche presents
The Bamboos
with special guests
The Croxton Bandroom (Thornbury, VIC)
Friday, 4 February 2022 8:30 pm
Melbourne nine piece The Bamboos have announced their first Australian tour in over three years to launch their 10th (and arguably their finest yet) studio album,
Hard Up
.
The tour is a belated chance to celebrate across the country their 21 years together. The Bamboos are undoubted pioneers of Funk & Soul in Australia, and this album and tour are a consolidation of the now 21 years of hard graft in getting Australian Soul music accepted both here and worldwide. From a time where soul music was rare to see on Australian stages and hear on the radio, The Bamboos have helped forge a scene where it's now not just important locally but making waves globally. Their impact on what would become the now world-famous Melbourne Soul scene is undeniable, blazing a path and inspiring so many locals to play, record and explore new ideas in Soul, Funk, Jazz and Beats.

​​​​​​PLEASE NOTE: PROOF OF DOUBLE VACCINATION AGAINST COVID-19 IS REQUIRED TO ENTER THIS SHOW

This is a CovidSafe event so please:
DON'T COME if you feel sick or if you've been in contact with a person who has been diagnosed with Covid-19. We will refund your ticket (proof required).
WEAR A MASK to this is is a full capacity show. If you are unable to socially distance, it will offer you some protection.

Further safety precautions may be mandated by the Victorian Government, we'll let you know if anything changes.

Important Information for all Ticket holders: for the health and safety of all our guests and staff, we will be adhering to the Covid-19 vaccination directions as mandated by the Victorian Government. In line with the Victorian Roadmap, all staff and artists will be double vaccinated and all guests will be required to check-in via the Service Victoria App with a valid Vaccination certificate as they enter the venue.