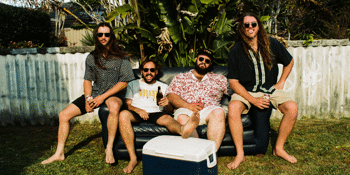 Artists Only & Select Music present
Beddy Rays – On Ya Bike Tour
with Special Guests
The Croxton Bandroom (Thornbury, VIC)
Friday, 25 February 2022 8:00 pm
Starting 2022 with a bang, Beddy Rays are heading around the country on their On Ya Bike tour to celebrate their wins of 2021. They kicked off the year with a sweet Hottest 100 placement (#57 for 'Sobercoaster') which has now over 2.5 million streams on Spotify alone.
The Reddy Bay larrikins were also finalists for both the National Indigenous Music Awards and Queensland Music Awards, as well as being named the 2021 Levi's Music Prize Winners. They've toured all over the country and continue to win people over with their humble personalities and knack for knowing how to have a bloody good time!
Important Information for all Ticket holders: for the health and safety of all our guests and staff, we will be adhering to the Covid-19 vaccination directions as mandated by the Victorian Government. In line with the Victorian Roadmap, all staff and artists will be double vaccinated and all guests will be required to check-in via the Service Victoria App with a valid Vaccination certificate as they enter the venue.