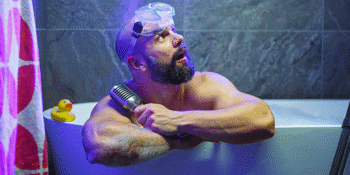 High Score Records, Macro Music and Select Music present
SETH SENTRY 'Super Cool Tree House Tour'
with special guests Fly Boy Jack & Yung Shogun
The Croxton Bandroom (Thornbury, VIC)
Saturday, 11 December 2021 8:00 pm
Super Cool Tree House
became a weekly staple for Seth's fans in 2020. Waking up every Sunday, we were treated to a recap of the week and a certain take on the world that only Seth could give us. This might have included current events from around the world or just some weird shit that Seth was pondering at the time, and everything in between. Now it's time for Seth to venture out of the house and onto a plane (remember those?), bringing his trusty sidekicks DJ Sizzle and drummer Stevie Cat Jnr, as well as his whole Twitch universe along for the ride. Catch the Super Cool Tree House Tour at The Croxton Bandroom in December.
PLEASE NOTE: PROOF OF DOUBLE VACCINATION AGAINST COVID-19 IS REQUIRED TO ENTER THIS SHOW
This is a CovidSafe event so please:
DON'T COME
if you feel sick or if you've been in contact with a person who has been diagnosed with Covid-19. We will refund your ticket (proof required).
WEAR A MASK
to this is is a full capacity show. If you are unable to socially distance, it will offer you some protection.
Further safety precautions may be mandated by the Victorian Government, we'll let you know if anything changes.
​​​​​​​Important Information for all Ticket holders: for the health and safety of all our guests and staff, we will be adhering to the Covid-19 vaccination directions as mandated by the Victorian Government. In line with the Victorian Roadmap, all staff and artists will be double vaccinated and all guests will be required to check-in via the Service Victoria App with a valid Vaccination certificate as they enter the venue.