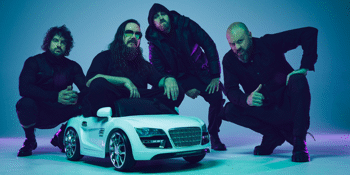 Volkanik and Premier Artists present
TWELVE FOOT NINJA 'Vengeance tour 2021-2022'
plus special guests
The Croxton Bandroom (Thornbury, VIC)
Saturday, 8 January 2022 8:00 pm
Maniacal rock-fusioneers Twelve Foot Ninja return to Australian venues to launch their new album VENGEANCE (out 15 October 2021). The band recently dropped new tracks
Long Way Home, Start The Fire,
and
Over and Out
from their upcoming 3rd full length and also announced an impressive offering of story-based content which has been in development for over five years. Winner of the USA Golden Gods Award for Best New Talent, and ARIA Award Nominees for
Best Hard Rock Album
, Twelve Foot Ninja's tours have developed a cult following from Berlin to Chicago and Moscow to Melbourne. Catch them live before they head overseas to a newly vaccinated Europe.
PLEASE NOTE: PROOF OF DOUBLE VACCINATION AGAINST COVID-19 IS REQUIRED TO ENTER THIS SHOW
This is a CovidSafe event so please:
DON'T COME
if you feel sick or if you've been in contact with a person who has been diagnosed with Covid-19. We will refund your ticket (proof required).
WEAR A MASK
to this is is a full capacity show. If you are unable to socially distance, it will offer you some protection.
Further safety precautions may be mandated by the Victorian Government, we'll let you know if anything changes.
​​​​​​​Important Information for all Ticket holders: for the health and safety of all our guests and staff, we will be adhering to the Covid-19 vaccination directions as mandated by the Victorian Government. In line with the Victorian Roadmap, all staff and artists will be double vaccinated and all guests will be required to check-in via the Service Victoria App with a valid Vaccination certificate as they enter the venue.