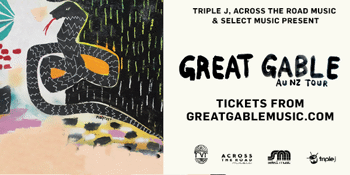 triple j, Across The Road Music & Select Music present
Great Gable - AU/NZ Tour
with Special Guests
The Croxton Bandroom (Thornbury, VIC)
Saturday, 19 March 2022 8:00 pm
From meeting on the cricket pitch to recording their debut album with the help of Matt Corby,
Great Gable
are not a band to do things in the standard way. Never ones to worry about industry hype, they have spent the past few years focused on one thing only – getting their music heard by their fans. The band have quietly been selling out multiple national and international tours and amassing millions of online streams for their music, building themselves a die-hard fan base that has stuck with them every step of the way. They're back on the road in 2022, hitting up a bunch of their favourite spots across Australia & New Zealand. The tour follows the release of their fresh new single Hazy, produced by Alex Henriksson & Matt Corby at Rainbow Valley in Byron Bay.
​​​​​​PLEASE NOTE: PROOF OF DOUBLE VACCINATION AGAINST COVID-19 IS REQUIRED TO ENTER THIS SHOW

This is a CovidSafe event so please:
DON'T COME if you feel sick or if you've been in contact with a person who has been diagnosed with Covid-19. We will refund your ticket (proof required).
WEAR A MASK to this is is a full capacity show. If you are unable to socially distance, it will offer you some protection.

Further safety precautions may be mandated by the Victorian Government, we'll let you know if anything changes.

Important Information for all Ticket holders: for the health and safety of all our guests and staff, we will be adhering to the Covid-19 vaccination directions as mandated by the Victorian Government. In line with the Victorian Roadmap, all staff and artists will be double vaccinated and all guests will be required to check-in via the Service Victoria App with a valid Vaccination certificate as they enter the venue.