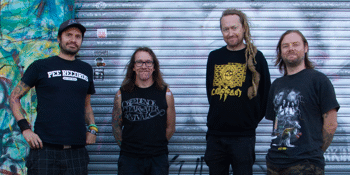 Blue Murder Touring presents
FRENZAL RHOMB
The Croxton Bandroom (Thornbury, VIC)
Friday, 20 May 2022 8:00 PM
FRENZAL RHOMB TAKES STEPS TO BATTLE LIVE MUSIC HESITANCY

The coronavirus and associated lockdowns have carved their torrid path throughout the country, and left a music-loving populace worried, wondering when it's safe to once again smash their heads in the general direction of blaring amplifiers and spitting musicians, sinking their faces into the sweaty morass of a moshpit.

In line with advice from Chief Health Officer Doctor Lindemans, Frenzal Rhomb has decided to take some concrete steps to tackle live music hesitancy, legislating a raft of new gig dates. The band is happy to announce the easing of musical restrictions and opening of the band's borders nationwide; the rollout will start in south east Queensland just after Christmas, moving across NSW, Victoria, South and Western Australia and the Northern Territory, at pubs, clubs and mass music hubs like Spring Loaded, Full Tilt Festival and Scene & Heard.

There is also a possibility that booster gigs may be added to the rollout in the coming months. While new variants of live music are spawning all the time, some more likely than others to land you in hospital, our top health officials agree this run of gigs will be exactly what the doctor ordered.

PLEASE NOTE: PROOF OF DOUBLE VACCINATION AGAINST COVID-19 IS REQUIRED TO ENTER THIS SHOW

This is a CovidSafe event so please:

DON'T COME if you feel sick or if you've been in contact with a person who has been diagnosed with Covid-19. We will refund your ticket.
WEAR A MASK to this is is a full capacity show. If you are unable to socially distance, it will offer you some protection.

Further safety precautions may be mandated by the Victorian Government, we'll let you know if anything changes.

​​​​​​​Important Information for all Ticket holders: for the health and safety of all our guests and staff, we will be adhering to the Covid-19 vaccination directions as mandated by the Victorian Government. In line with the Victorian Roadmap, all staff and artists will be double vaccinated and all guests will be required to check-in via the Service Victoria App with a valid Vaccination certificate as they enter the venue.