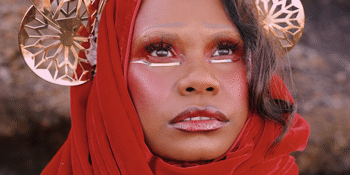 Select Music, Dot Dash Recordings & Maximillian Brown Present
CANCELLED - NGAIIRE
with special guests
The Croxton Bandroom (Thornbury, VIC)
Friday, 9 September 2022 6:00 pm
5 years in the making, Ngaiire is taking her third album '3' around Australia and Aotearoa/New Zealand in January.
You can expect the signature vocals, beats and costumes that have seen Ngaiire receive countless awards including four National Live Music Awards, an FBI Radio SMAC Award and the inaugural Australian Women in Music Award for Artistic Excellence. Not to mention bringing her signature style to the stages of Glastonbury and Splendour In The Grass and tours alongside Sufjan Stevens, Alicia Keys and Leon Bridges.
Nominated for multiple ARIA Awards, '3' is a deeply personal album that brings Ngaiire's heritage as a Papuan New Guinean woman to the foreground, exploring the link between heritage and westernised existence.
PLEASE NOTE: PROOF OF DOUBLE VACCINATION AGAINST COVID-19 IS REQUIRED TO ENTER THIS SHOW

This is a CovidSafe event so please:
DON'T COME if you feel sick or if you've been in contact with a person who has been diagnosed with Covid-19. We will refund your ticket (proof required).
WEAR A MASK to this is is a full capacity show. If you are unable to socially distance, it will offer you some protection.
Further safety precautions may be mandated by the Victorian Government, we'll let you know if anything changes.
Important Information for all Ticket holders: for the health and safety of all our guests and staff, we will be adhering to the Covid-19 vaccination directions as mandated by the Victorian Government. In line with the Victorian Roadmap, all staff and artists will be double vaccinated and all guests will be required to check-in via the Service Victoria App with a valid Vaccination certificate as they enter the venue.