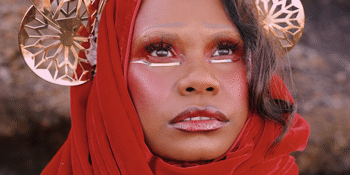 Select Music, Dot Dash Recordings & Maximillian Brown Present
NGAIIRE
with special guests
The Croxton Bandroom (Thornbury, VIC)
Friday, 21 January 2022 6:00 pm
5 years in the making, Ngaiire is taking her third album '3' around Australia and Aotearoa/New Zealand to celebrate its August 27th release.
You can expect the signature vocals, beats and costumes that have seen Ngaiire receive countless awards including four National Live Music Awards, an FBI Radio SMAC Award and the inaugural Australian Women in Music Award for Artistic Excellence. Not to mention bringing her signature style to the stages of Glastonbury and Splendour In The Grass and tours alongside Sufjan Stevens, Alicia Keys and Leon Bridges.
'3', a deeply personal album, brings Ngaiire's heritage as a Papuan New Guinean woman to the foreground, exploring the link between heritage and westernised existence.
"I am full to the brim of stories that many don't have the privilege to hold within themselves; some I know quite well and some live deep in my DNA that I won't have enough lifetimes to unpack. But the ones I know, I will tell how I want to because I can. So here is a collection of love letters to 3 entities - myself, my country and those I love both here and now departed."
-
NGAIIRE
For the first time, Ngaiire will be releasing '3' in a limited edition vinyl. Pre-buy your copy now HERE
-------------
This is a Covid Safe event and there are a few things we need you to know before you arrive.
PLEASE DON'T COME

if you feel sick, if you've been in contact with a person who has been diagnosed with coronavirus (Covid-19), or if you have travelled overseas or to a coronavirus hotspot in the last 14 days. We will refund your ticket.

BRING A MASK

— if you are unable to socially distance, it will offer you some protection. (The Croxton Bandroom has a special exemption from the Health Department to run at a higher capacity, which means reduced physical distancing indoors if a show is sold out, which means increased risk.)

A strict

NO QR CODE, NO ENTRY

policy applies at our venue. We use the Service Vic App QR code and you will have to

SHOW SECURITY YOUR GREEN TICK

at the door in order to get inside.
Download the App now for iPhone
Download the App now for Android
There is

NO CLOAKROOM

at this event. Bags bigger than A4 size are not permitted in the venue.

NO MOSHING, NO CROWD SURFING

. No kidding. Patrons who kick off will be removed from the venue. We're really sorry about it, but we're in a pandemic.
Do you best to remain socially distanced and practice good hand hygiene. If you feel sick at the event, please report immediately to the Box Office so we can do a first aid assessment and get you home safely.